We'll have the following CSA veggies this week (subject to change) :
Full share (tuesday): 450g lettuce mix, 450 g spinach, choose one: radish or turnip, 1 Bunch bok choi, 1 green onion, choose one: 125g arugula or mixed mustard greens, choose one: broccolini or kale, 50- 100g pea shoots
Half share (thursday): 300g lettuce mix, 225g spinach, 1 bunch bok choi, choose one: arugula or pea shoots, choose one: radish/turnip/broccolini/kale, 1 bunch green onion
If you're looking for recipe ideas for anything, we have a bunch of recipes posted on the recipe tab: https://jonathansfarm.com/recipes/
If you have any recipes you'd like to share, please email them to me at jonathansfarm@gmail.com and I'll put them up!
I like the peas shoots raw in salad or sandwiches, but you can also sautee them and there's a recipe for that on the recipe page. My favourite way to eat bok choi is sauteed quickly with garlic and ginger in sesame oil and soy sauce: that's all I'll be eating for the next couple weeks. The hakurie turnips are also super sweet and great raw, and the leaves are edible also! The word turnip sometimes deters people, because technically they're a turnip, but they don't taste like one. Thing of them as little white flavorbombs.
Finally, this year we've concocted a mix of all the tastiest asian greens (mizuna, arugula, tatsoi, red/green mustard and tokyo bekana). This is great as salad or in braising greens mix. For the die hard arugula lovers we'll also have just straight arugula.
On the farm this week:
It was a perfect morning for our first harvest: i.e it wasn't pouring rain!
Here is everyone harvesting spinach this morning. From front to back on the left is Morgan and Irina and on the right is Tessa, Sandra and Sarah. And this group is amazing. In fact, the only reason we have vegetable to harvest this week is because they came for mothers day weekend and we planted for 2 very long days because that looked like the only window between rains we were going to have to plant.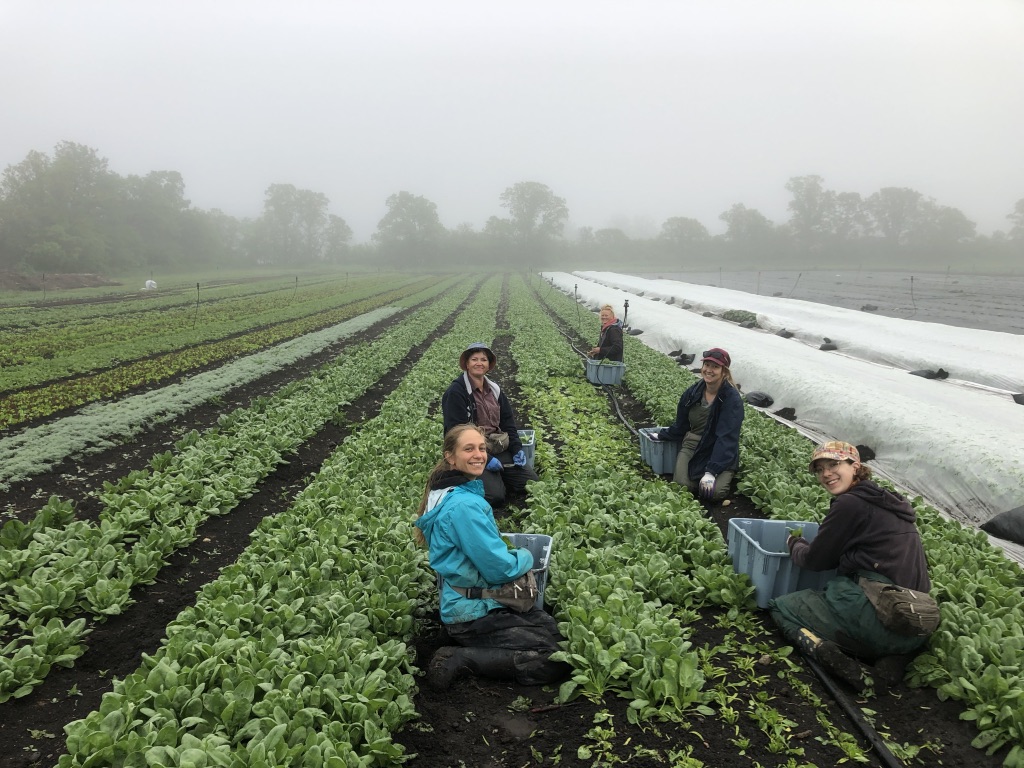 We're also fortunate to have another volunteer this year, Luke. He's been coming regularly on Mondays to help. If you're wondering like most people if he's a weightlifter because of his big muscles – yes he is! Yet for some reason he got to carry the one bunch of radish while Sarah carried the 30 lb of bok choi.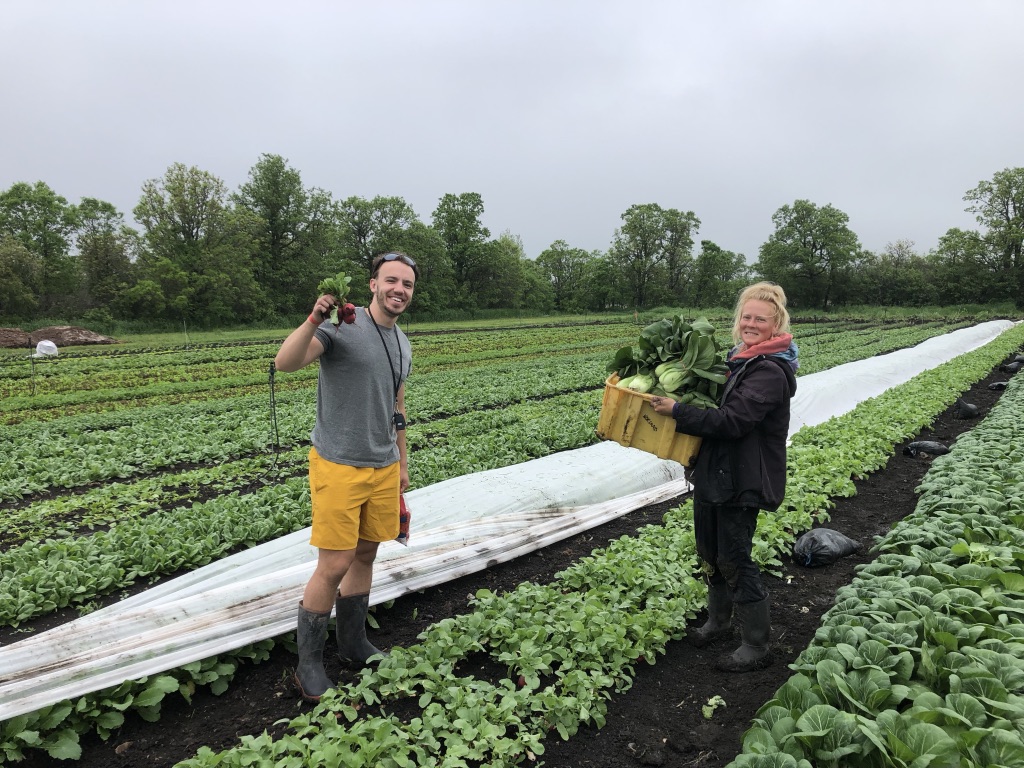 You also might be wondering this year 'whats wrong with this bok choi, how come there are no holes it?' That's actually how it's supposed to look! It's just that this spring we've had no flea beetles….until now. They usually don't come out until its' warm and sunny. Usually they've come and gone by June, which is good timing because then we can uncover everything and not have to deal with recovering things during most of the harvest season. As of last week they hadn't come yet, so I decided they weren't coming and we uncovered everything, rolled up all the covers and hauled away all the sandbags. Then literally the next day there were flea beetles on everything. So we hauled the covers sand bags out all over the field again and recovered it all! According to the timing of the flea beetles this spring is 6 weeks later than last year.
Here's Sandra and Morgan recovering the broccolini.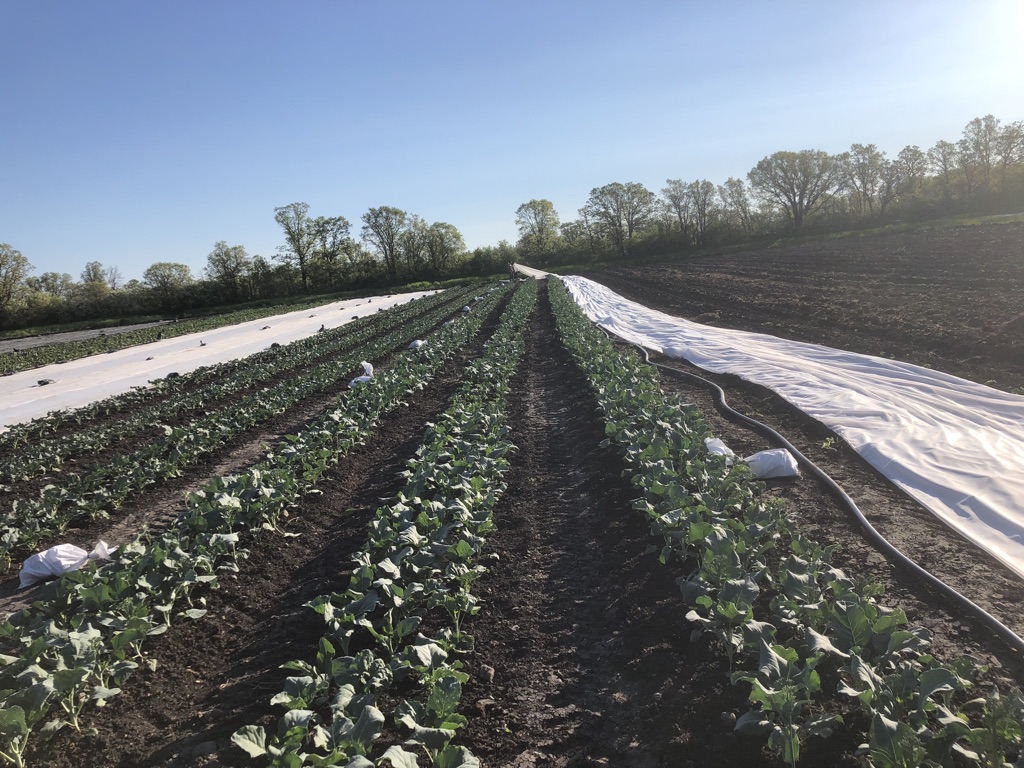 Despite the wet spring, somehow we haven't had to deal with mosquitos yet! So I"m just really happy for that. I'm just hoping they're not planning on doing what the flea beetles did and are just waiting in the bushes until I take off all my clothes and then jump out all at once. I'm still having nightmares of our wet spring a few years ago when we had to dress like this all summer and probably lost about a litre of blood per day.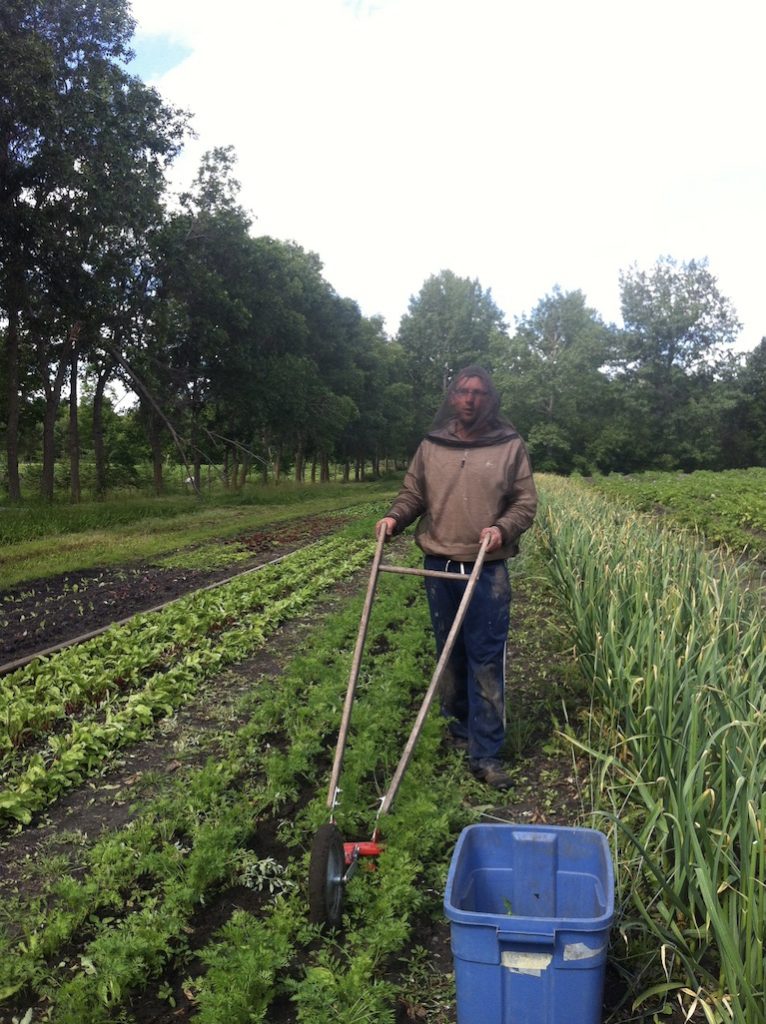 That's if for this week. See you soon,
Jonathan, Sarah, Irina, Sandra, Tessa, Morgan, Michelle and Luke