We'll have the following veggies this week:
spinach, chard, kale, pea shoots, carrots, beets, zucchini, onion, kohlrabi, cucumber, cabbage, peppers, tomato, beans, dill, cilantro, parsley, basil, green onion,
On the farm this week:
For the first time this summer, it finally rained! It wasnt' a lot, but it was enough so that we didn't have to water all week, which was a nice break. Here's a picture of the whole farm after the rain. In the front are the squash and melons. The melons are starting to ripen, so we probably have a few this week as a choice. Every year I hear this phrase a lot: 'I hate melons, but these are good!'. So if you hate melons, you should still try these once. It makes a really big difference to the flavour if they're picked ripe. The only problem is, once they're ripe every other living thing starts to try to eat them and it's getting really annoying!
So some we will cut of the damaged part and saran wrap up for half shares. Also, if they're 95% perfect, we hope people will be ok with that and cutting out any bad parts, bc otherwise we wouldn't have enough melons.
Also, the same is for the tomatoes. We planted a few heirloom types and they keep cracking on the top, and because so many are cracking we have to include them. If you find the cracks unpleasant, if you just cut the top off the rest of the tomato is still good. Next year we will not plant these varieties that have so much cracking. But also please let me know how you find the tomatoes and everything else. We value the honest feedback. And also, there are purple and yellow tomatoes included – I keep forgetting to mention that. Some people think they're not ripe, but they're just different colours.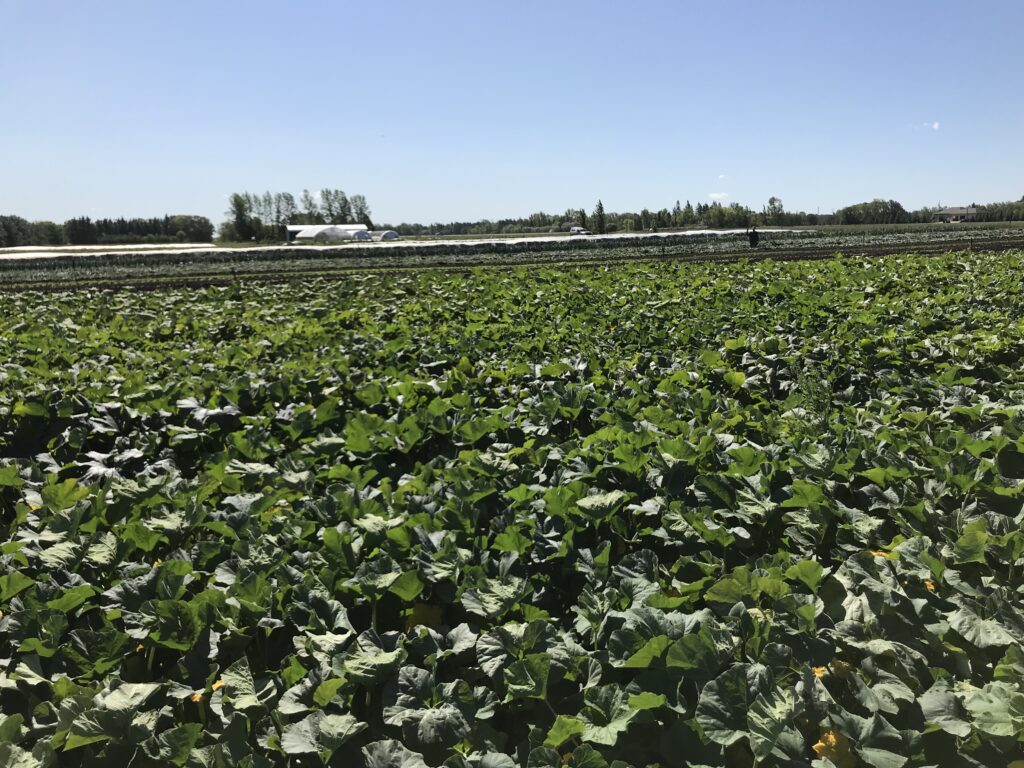 Now that we are done planting for the year, all our free time is getting used up with getting ready for fall and this week we are hauling all the onions out of the field to finish drying in the greenhouse. People are starting to ask about winter CSA, so we will be emailing about the winter CSA sign ups around the end of August. Our garlic is done drying now also, so we will be letting people know about that at the same time!
And if you wanted to know what the flea beetles look like, here they are enjoying some tasty broccolini. Our broccolini is done for the year now anyways, so we didn't cover it up and I just leave it there for now hoping it distracts them enough so they don't go looking to hard for the kale.
Well, that's it for this week.
See you soon,
Jonathan, Sarah, Irina, Hannah, Kaitlyn, Ronald, Kennedy, Ryan.