We'll have the following veggies this week for CSA:
lettuce, chard, kale, broccoli, broccolini, celery, sweet onion, carrots, zucchini, cucumber, beets, celery, beans, cabbage, dill, cilantro, parsley, basil, green onion
We might start harvesting celery this week: it has a lot of flavour, but it is a bit fibrous for eating raw. I think it's best for cooking/juicing.
On the farm this week:
This Thursday Aug 04 is going to be the ' Wolseley night market'.  There will be 100 amazing vendors, live music all day, and beer gardens. We will have Donna's Mobile Comfort Food Truck serving food all day (vegan options available).  It will run until until 8 pm (CSA pick up still runs until 6:30). 
We've started watering this week for the first time this year because we haven't had rain in almost 3 weeks now! At least I won't have to mow as much which probably and mowing takes more time than watering. We watered these onions a couple times in the last 2 weeks to help them along. Here's Sarah harvesting onions. Not only does Sarah harvest in the morning, but she washes all of the vegetables by herself every day. Everytime someone new comes to the farm they tell me ' I've never seen someone work so hard'.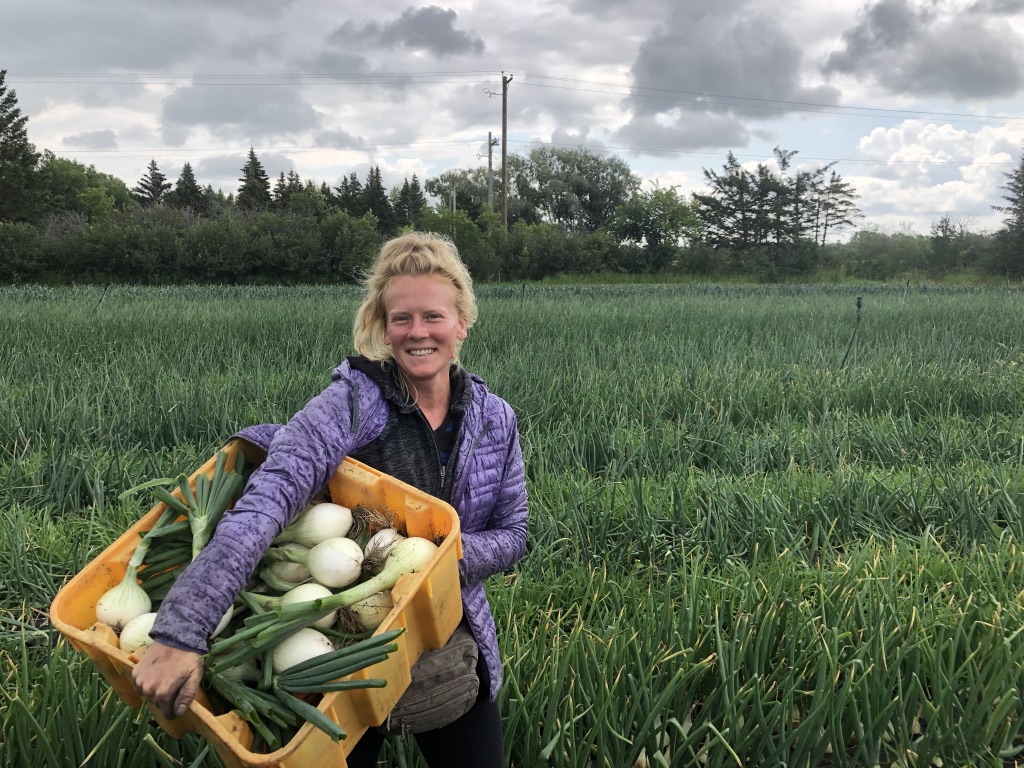 This coming week we will be finishing all our transplanting for the year!!! We only have some lettuce left to plant which means now I get 6 months without having to worry about keeping baby transplants alive.
However, we actually shouldn't be finished planting just yet: Has anyone ever flipped the page on their calendar at the end of the month to see what was coming up the next week, but then forget to flip it back and go to all your appointments one week early? Because I just did on Friday. It wasn't until after pushing my seeder for about 3 hours I started to think to myself 'hmmm if we started planting one week late this year, then why i'm I finishing planting one week early? But I think it will be ok because ,if you haven't noticed, the days are getting shorter fast and so nothing that I seeded will bolt anyways.
We also started harvesting our garlic! We planted a lot more than usual last fall, and coincidentally we planted it in the wettest part of the garden. So it's not going to be a record breaking garlic crop, but they did much better than I expected. I forgot that after a drought you shouldn't be preparing for a drought anymore. We will have our bulk garlic order form up once all the garlic is harvested in a couple weeks. Here's Irina and Sandra cleaning up garlic in the field.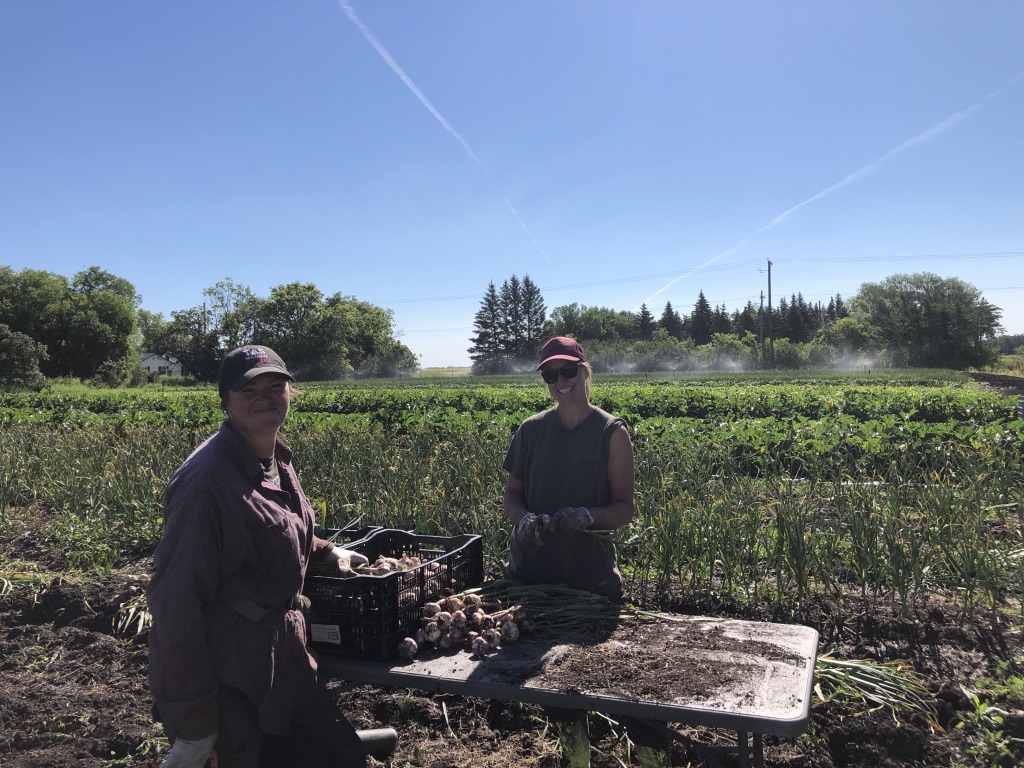 That's it for this week.
See you soon,
Jonathan, Sarah, Irina, Sandra, Tessa, Morgan, Dylan and Michelle