We'll have the following veggies this week:
lettuce, spinach, chard, kale, carrots, beets, onions, potatos, turnips, celery, tomato, melon, squash, cabbage, peppers, leeks, dill, cilantro, parsley, basil, green onions, hot peppers.
On the farm this week:
It's so nice out… Finally! After been so cold last week I've putting on long underwear, ski pants and 3 parkas but then I'm stripped down to almost naked by 10 am. It's so hard to know how to dress when you just base your clothes on the weather last week and don't actually look at the weather.
We did get a couple light frosts though this week, so I guess winter's coming! We're going to squeeze as many cucumbers and beans we can out of the next week, but they're definitely coming to an end. Whoever ends up with this long bean will get prize if you send a picture of the same pose with it!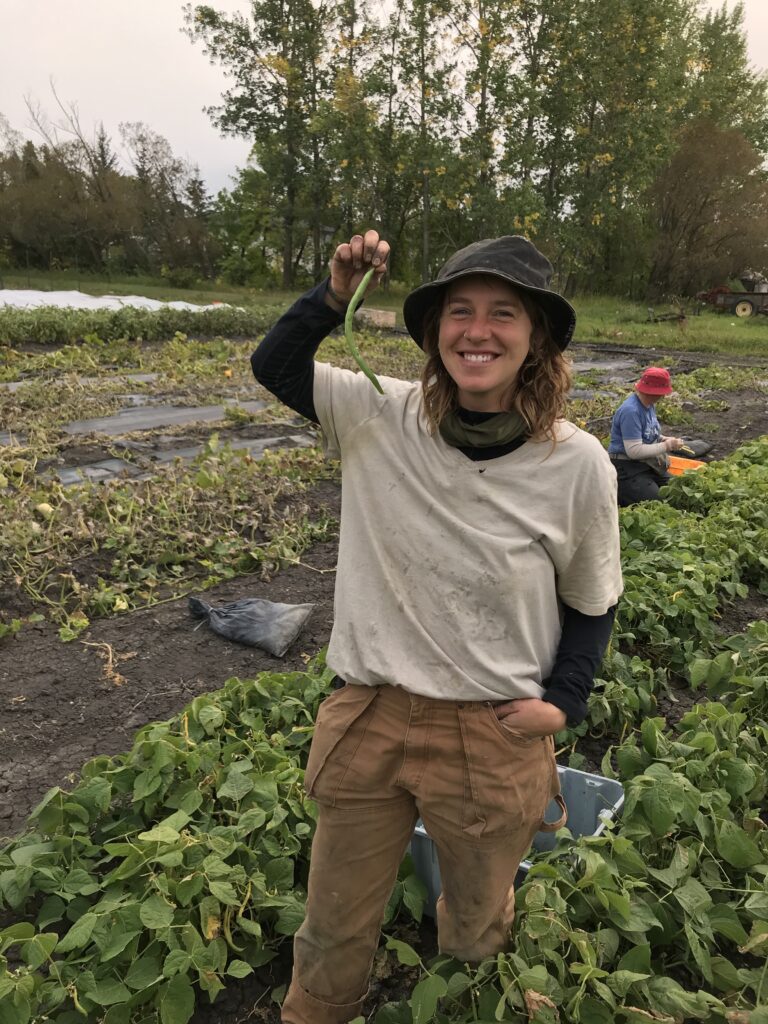 This week we also had help for 2 days from Shenggang who keeps coming back every year whenever he has a day off because he misses us so much. I forgot to take pictures this week, but apparently this is when Shenggang showed up last year also, because here he is digging leeks this week last year! He, Tristan and Kelsey dug up 500 leeks which is a long time digging, cleaning and trimming leeks.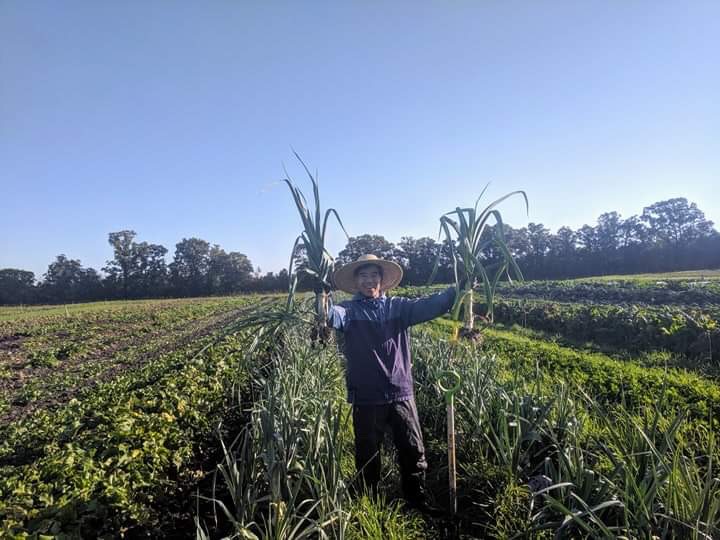 With more frost coming we've also started rounding up the winter squash. We've got a few different varieties. From left to right below are:
butternut, pie pumpkin, orange hubbard, blue hubbard, spahetti, acorn, kabocho, delicata and if you guess what's on the very end you win a free squash.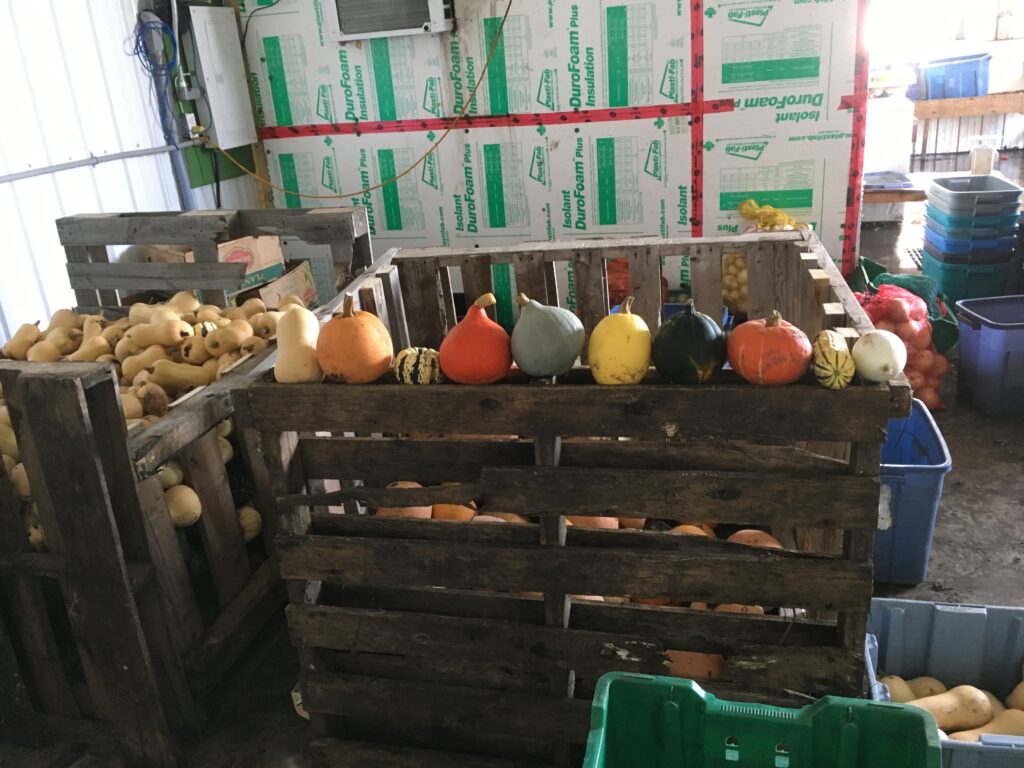 If you're not familiar with your squash here's a few notes:
Butternut: Actually makes a great pumpkin pie! It's also classic for soups.
Pumpkin – makes a a great butternut squash soup! It's also good for pumpkin pies.
Orange hubbard –    It's teardrop shape will help distinguish it from the  red kobacha which is flat and round.   It's good for pies and purees bc it's specks of skin will not show.
Blue hubbard – Sweet flesh bright orange fiberless flesh. Skin is tender compared to other hubbards making it easier to cut. It's good for soups and pies.
spaghetti – Makes great spaghetti! Is good baked and the insides scooped out. Add pasta sauce or butter and garlic.
Red Kobacha:  Tender flesh is smooth, sweet and bright orange for baking, mashing and pies.  They're flat and round which distiguishes them from the orange hubbard
Buttercup (No picutre here, but we have some): Have deep orange fiberless flesh with a rich sweet flavor. They're flat round and dark green.
Acorn: Easy to cut in half and bake with butter and maple syrup.
Delicata: very sweet and good for stuffing and baking.
Also, I found out that Tristan is a talented juggler. Each time I came to see how the onions cleaning was coming along he would just juggle and I'd get distracted and forget to check if the onions were ready for tomorrow….I hope they're finished…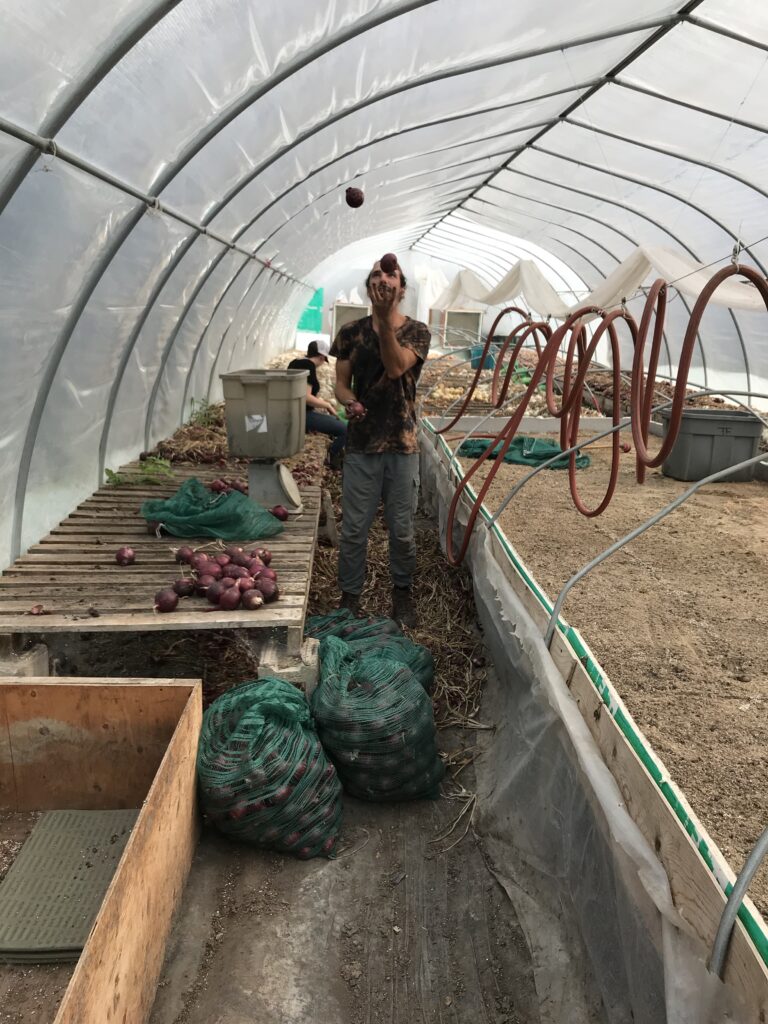 Well that's it for this week.
See you soon,
Jonathan, Sarah, Irina, Kelsey, Mallory, Tristan, Samantha