We'll have the following veggies choices available for CSA this week:
Lettuce, spinach, chard, kale, broccoli, cabbage, carrots, potatos, onions, beets, tomato, cucumber, zucchini, melons, peppers, leeks, dill, cilantro, parsley,
On the farm this week;
Right now is my favourite time of year because the cool mornings and warm afternoons make working so much more pleasant. But tonight we have a risk of frost! So soon the comfortably cool will be uncomfortably cold and people will start showing up to work in their parkas. The problem with that is it doesn't stay cold and throughout the day everyone starts taking off layers and by noon no one knows where any of their clothes are and the next day everyone is in t-shirts and it's below zero. Then when we dig up potatos each year we usually dig up several parkas, mitts, winter boots etc.
And with the cold weather coming now, we figure its' soup season so time to start harvesting the leeks which are nice and big now. I love leek and potato soup or broccoli soup because it's so easy and tasty. Just cook leeks, potato, broccoli, garlic, onions and borth and blend it. Here's Irina and Alysasa harvesting the leeks. She's already lost her jacket as you can see so tomorrow will not be fun!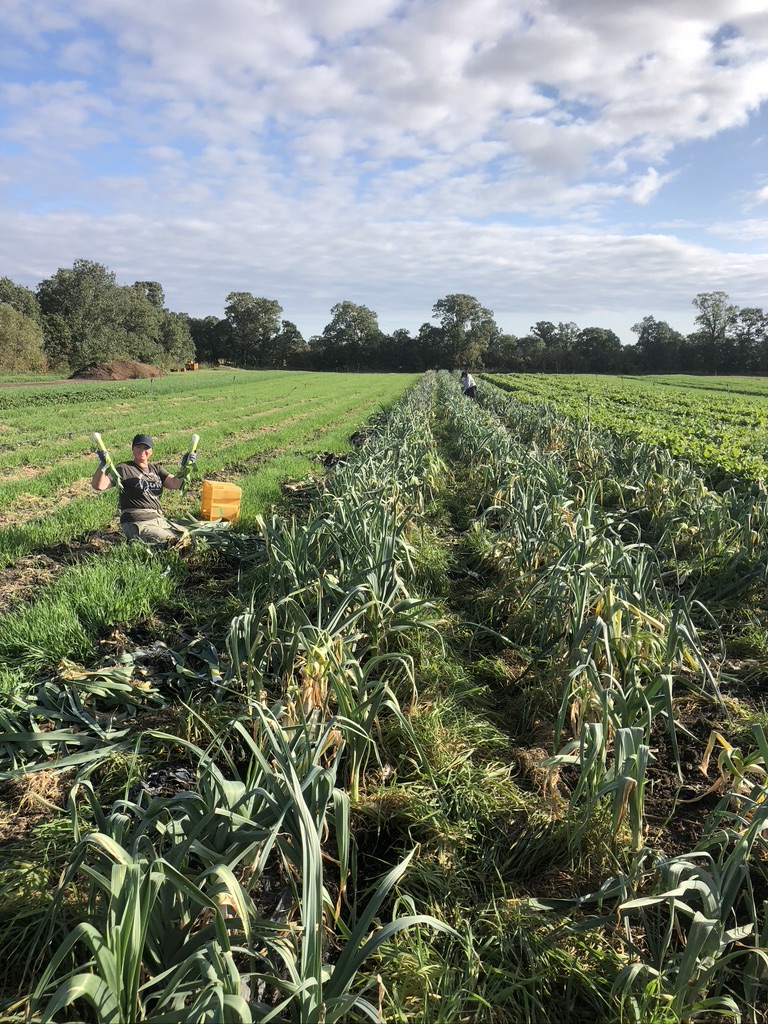 And next to Irina you can see our nice patch of oats where the onions used to be. As we harvest we just keep planting green manures so the farm is still totally green.
And here's a picture of the squash patch with more oats all around it. Now that we might have frost soon we will start harvesting the squash this week and putting it into our greenhouse to cure
And finally – it's the 15th week of summer pick ups! I can't believe how fast the time has gone. If you are signed up for the 15 week – thank you for taking part in the CSA this summer. I really hope you enjoyed it and let me know if it's your last pick up when I see you this week.
That's it for this week.
See you soon!
Jonathan