We'll have the following veggies this week:
lettuce, spinach, chard, kale, broccoli, potatos, carrots, onions, beets, zucchini, cucumbers, melons, beans, tomatos, peppers, dill, cilantro, parsley, basil, green onions, hot peppers,
On the farm this week:
We had a hurricane on the farm this weekend on Saturday night and got so much rain! We did our first big potato digging Friday before it rained (because we're smart). Last week when I checked the potatos there wasn't enough 'That's weird' I said, 'I guess we should wait another week. Then on friday there's were way more than enough, That's weird' I said, I guess we should have started last week. Somehow starting last week or waiting till this week were both the wrong decision…
I also finally upgraded to a better potato digger, and now everyones mad at me for not doing this years ago! It works so much better than the last which was an old horse drawn, wheel driven potato digger (below). This is now for sale if anyone is looking for a really ugly lawn ornament.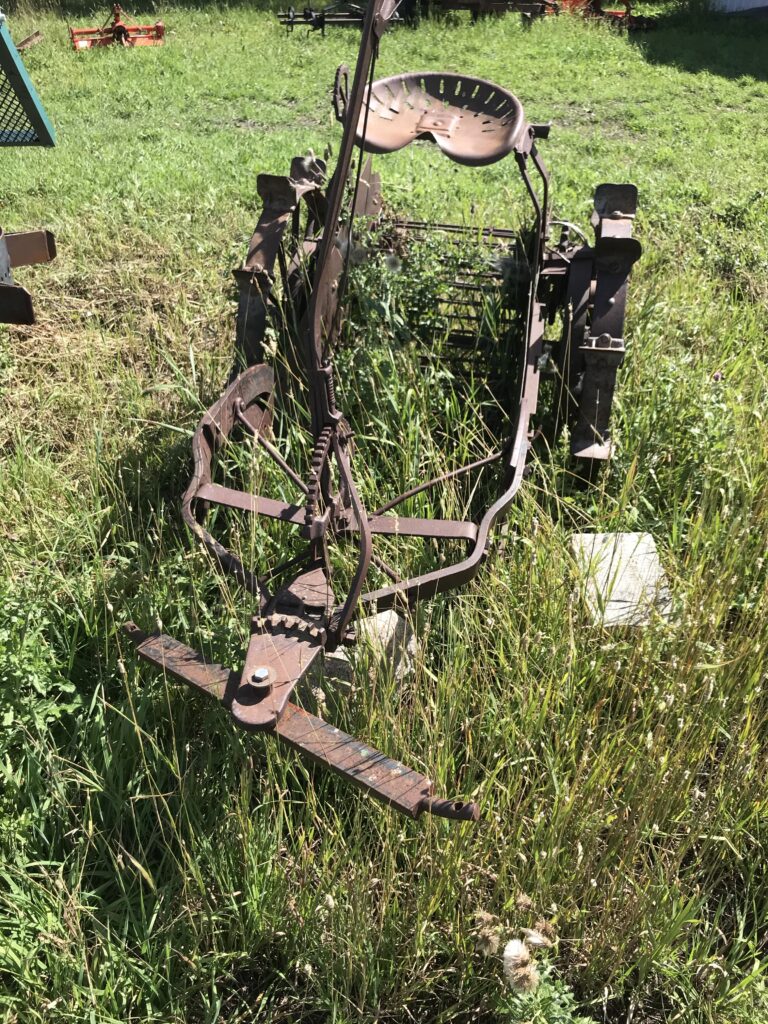 Here's the new, one, not much different except that the chain is driven by hydraulics and it runs properly.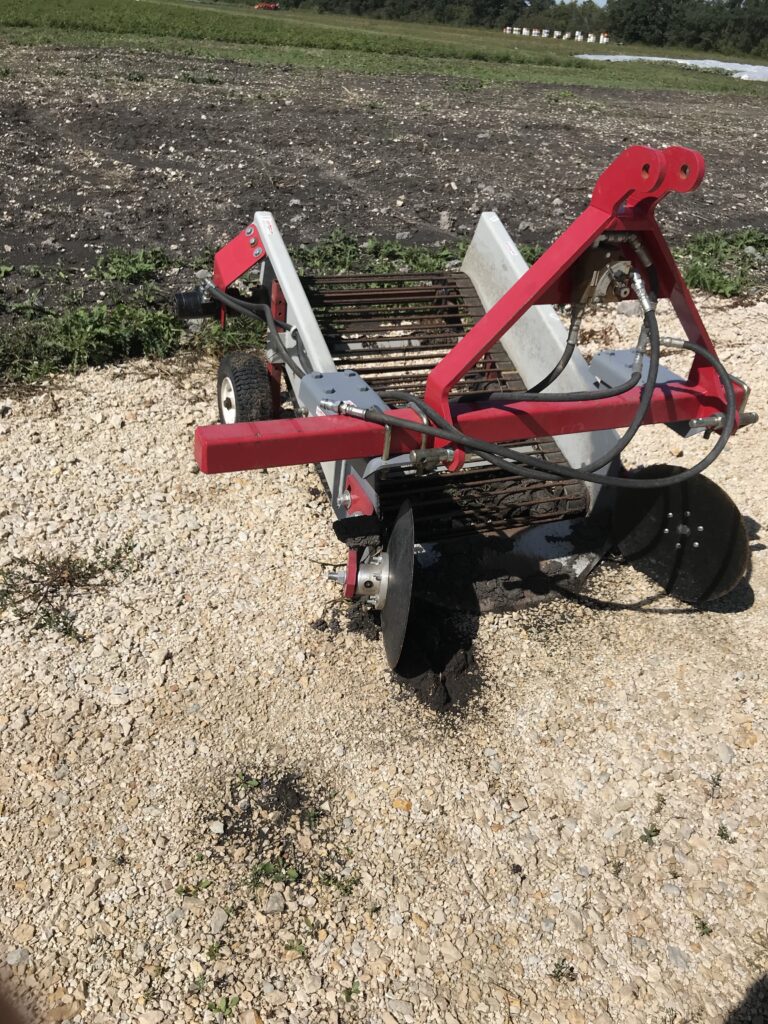 It's also fruit ripening season! We planted a lot more melons this year with the aim of everyone getting a melon (this week for sure for full shares, and within the next week for half shares). Mostly we'll have canteloupe this week, and then watermelons later on. We tried one new variety this year, 'san juan' which is an ananas type. It has white flesh and tastes kind of banana/ pear like. If you want to try that one it's the one with bright orange/yellow skin. Here's Allegra munching on one of the san juans.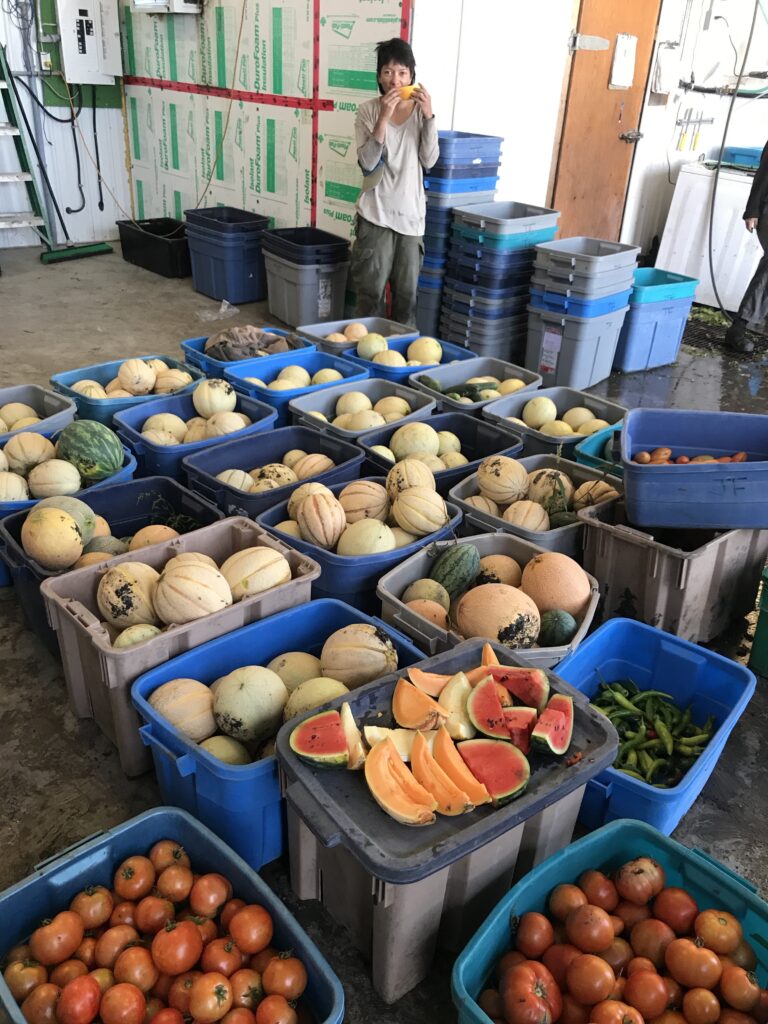 And finally, we got all the onions and garlic pulled up last week and they are now drying out for storage. Last year we hung all the garlic to dry in a plastic fence. I thought it would be really fast and easy and then easy. It wasn't. This year, we mowed the tops off the garlic, then pulled them all up and they are just lying and drying in the field. Here's the garlic after mowing, before pulling.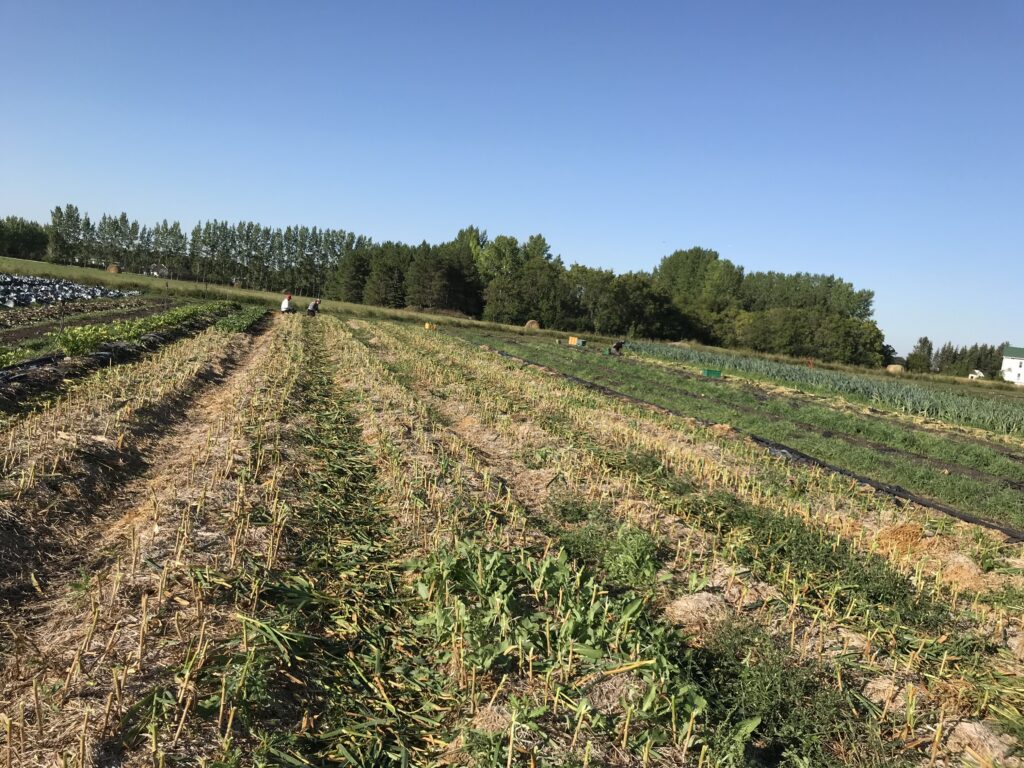 Finally – because winter's coming the sign up form for the winter CSA is now up on the website: https://jonathansfarm.com/winter-csa-info/
And if you're interested in ordering bulk garlic or tomatoes you can also do that now here: Garlic/Tomato order form. I expect to have tomatoes probably starting next week.
That's it for this week.
Thanks and see you soon!
Jonathan, Sarah, Kelsey, Irina, Michelle, Robin, Annika, Allegra and Tristan